This is a cross post from our Master Site!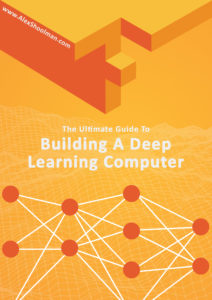 I'm happy to announce the availability of a fantastic new free course today. Best of all you can take it right now!
Intro to Building A Deep Learning Computer is free course. All you have to do is head over to the new COURSES section of the website. There you will see more and more free and paid courses pop up over time. For now though you can get this first course for free and start learning straight away.
The new course is perfect for anyone wanting to start out in Deep Learning. There are heaps of great tutorials telling you what Machine Learning is. Not so many teaching you how to design and configure your own computer for it.
Free Tool Benefits
Learn why GPUs are so important in Deep Learning and how many you'll really need
Get a full list of core rules to follow when designing your computer
See why certain components matter and some don't
Run through a real life example of how to design a Deep Learning computer, step-by-step
Save yourself weeks of time with detailed configuration steps
Take the confusion out of which packages you should install
Get exact console commands to configure each required core deep learning component
All for free
Many experts charge money for these types of guides but you get it for free here. So enjoy!
My hope is to continue populating this COURSES section over time. So if you have any suggestions for a new course let me know in the comments below!
For the newer readers... if you're interested in learning more about being mortgage free in under 10 years, automatically and without cutting back on the things you love... You'll probably like How To Pay Off Your Mortgage Early, Go From No Idea To Mortgage Free In Under 10 Years.
The benefits include: 1) How to pay off your mortgage faster than 99% of people with one hour a month of work 2) How to get rid of your debt and have the freedom to spend money on the things you love, guilt free 3) Clear outline of how to setup your expenses, mortgage and general finance 4) How offset accounts work and how to get the same result without being gouged by the big banks 5) How to cut through the crap and focus on the things that truly matter when taking down a mortgage 6) How to adjust the strategy so it works for you, even if you have kids, even if you only have one income 7) How to do all of these things and maintain a normal social life (and never be cheap).
LIMITED TIME 52% OFF HAPPY NEW YEAR SALE!!!