Just wanted to give a quick shout out to let everyone know our fantastic How To Pay Off Your Mortgage Early course is currently 52% off!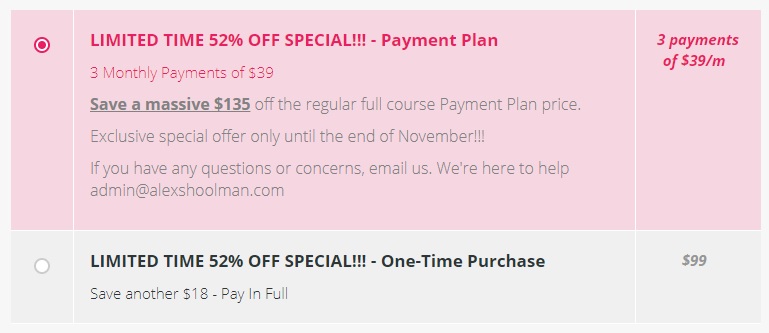 Our very popular Payment Plan (3 payments of $39/month) has a massive $135 off our regular payment plan price. You can also get the course for even cheaper with the One-Time Purchase option of $99 which is $106 off our regular one-time purchase price.
For the newer readers... if you're interested in learning more about being mortgage free in under 10 years, automatically and without cutting back on the things you love... You'll probably like How To Pay Off Your Mortgage Early, Go From No Idea To Mortgage Free In Under 10 Years.
The benefits include: 1) How to pay off your mortgage faster than 99% of people with one hour a month of work 2) How to get rid of your debt and have the freedom to spend money on the things you love, guilt free 3) Clear outline of how to setup your expenses, mortgage and general finance 4) How offset accounts work and how to get the same result without being gouged by the big banks 5) How to cut through the crap and focus on the things that truly matter when taking down a mortgage 6) How to adjust the strategy so it works for you, even if you have kids, even if you only have one income 7) How to do all of these things and maintain a normal social life (and never be cheap).
LIMITED TIME 52% OFF HAPPY NEW YEAR SALE!!!