Here in Australia there are four main, "big banks". Commonwealth Bank, ANZ, Westpac and NAB.
Together they make up the vast majority of the home loan market and they're usually the default options when looking for a loan, however today we're going to take a look at why it could be better for your loan, your wallet and even the environment to not go with one of them.
In Finance, Money Talks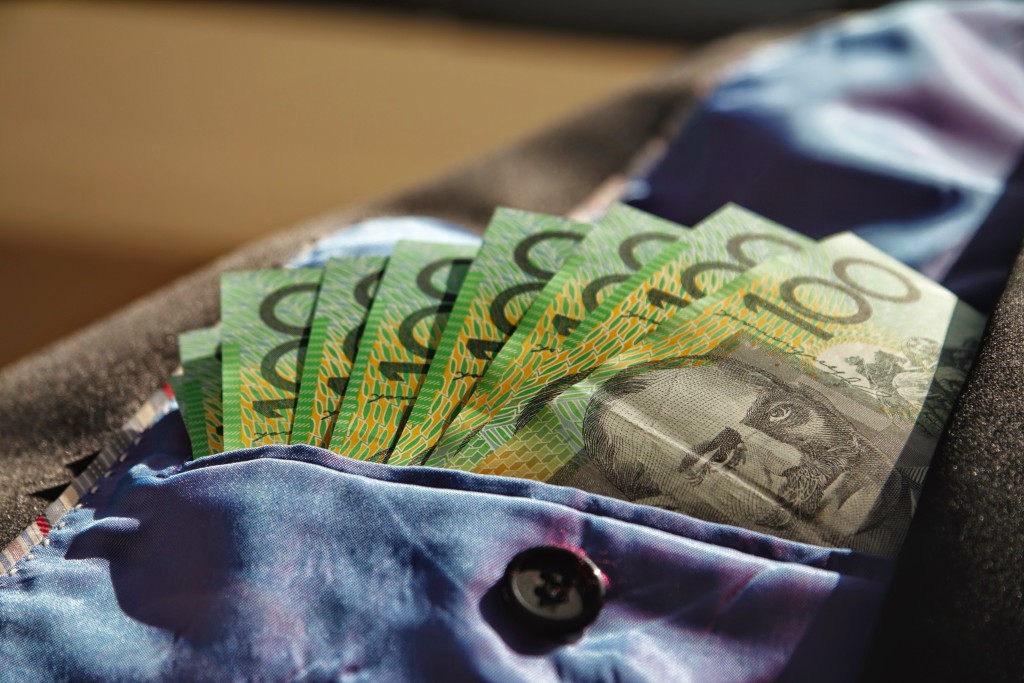 One of the best and most common reasons people shy away from the big four banks is a simple cost comparison. A quick glance over at say, CBA here reveals a "Standard Variable Rate" of 4.33% p.a. Even their "Extra Home Loan" product with a "low variable rate" comes in at 3.45% p.a. Now compare that with someone like CUA who offer loans as low as 3.18%p.a.
Obviously over time these rates will change and you can always negotiate potentially better rates… but many Australians are just wanting a better deal and the big banks don't seem to be anywhere near as competitive. As a result, they loose out to smaller lenders as indicated by a report done by Lendi.
Only 24 per cent of borrowers using the Lendi platform went with one of the big four between January and June, down from 30 per cent in 2018.
While 4.33% vs 3.18% interest rate difference might not seem like a huge deal at first, it will save you $4,600 per year on a $400,000 mortgage. Over the full 30 year loan that's $138,000. That's bonkers.
Broken Trust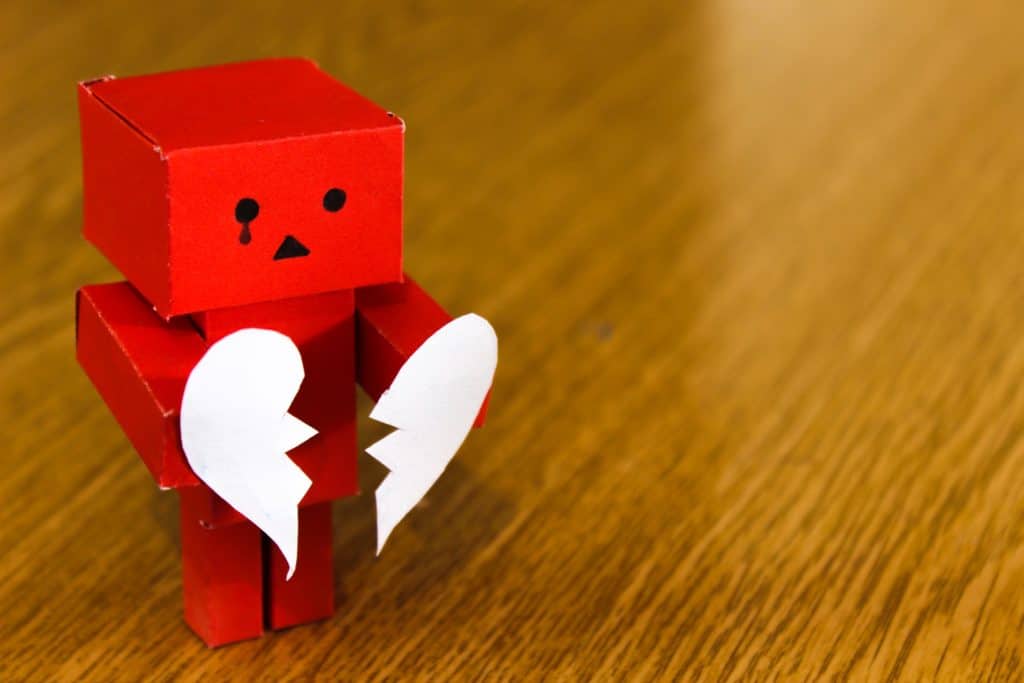 The very public and scathing Banking Royal Commission destroyed pretty much all trust Australians had in the big banks last year. Some truly obscene things were revealed throughout the hearings including banks laundering money for drug syndicates, turning a blind eye to terrorism financing and ignoring statutory reporting.
Banks were even caught charging fees to people that were dead or charging fees for financial advice which wasn't even provided! The CEO of ANZ resigned and it was revealed MLC, a subsidiary of NAB, had deducted $100 million in fees from more than 300,000 customers where services were not provided.
The royal commission shattered trust in the big institutions. Now, we are seeing more borrowers opting to go with less established or newer brands because savings are winning out over brand loyalty.
That lack of trust has hit home and knocked out what was once their biggest benefit, a strong brand loyalty and trust that they "knew what they were doing". As a result of both lost trust and in many cases pure disgust at the revealed behaviour more and more people are taking their business elsewhere.
Supporting Pollution And Coal
Despite the complete lack of action by the Federal Australian Government on any meaningful Climate Change Action the vast majority of Australians seem to agree that we should transition to Renewables quickly.
When it comes to building coal plants or starting coal mines though companies generally need to get investment capital or loans to start things out. Unfortunately the big four banks represent some of, if not the, biggest fossil fuel investors around as can be seen with this fantastic Market Forces website showing each Bank and how much fossil fuel funding they do.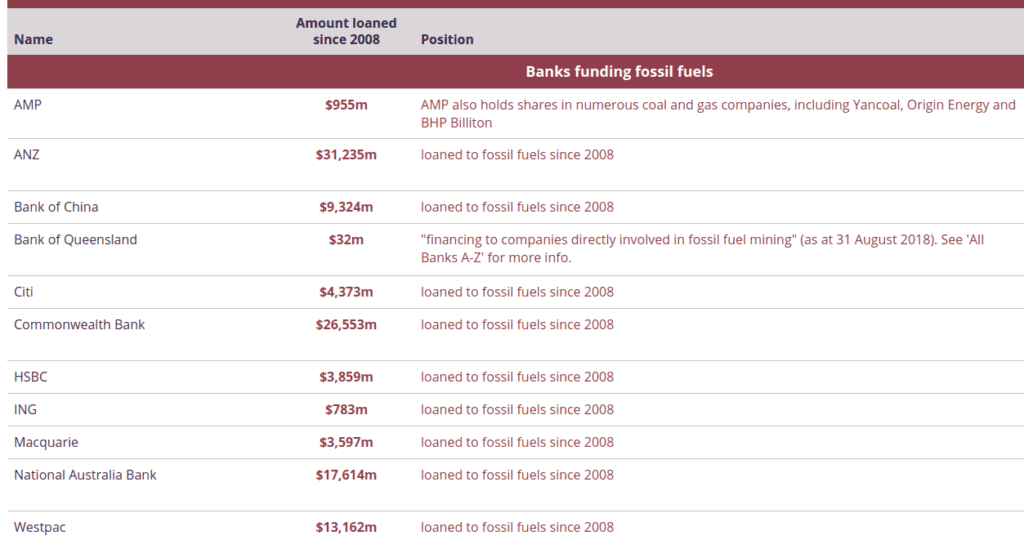 As you can see ANZ, CBA, NAB and Westpac combined have loaned over $88 Billion dollars for fossil fuel related endeavours since 2008. If you agree that the world needs to act now to help stop Climate Change then taking your banking, home loan and savings account to another bank that has zero fossil fuel investments sends the strongest message you can.
Market Forces helpfully provides a full list of banks in Australia without any fossil fuel funding such as CUA, Bendigo Bank, ME Bank, Regional Australia Bank and more. You can even fill out simple "tell them to stop" forms and let them know why you're leaving them for a competitor.
The big four are supporting a huge problem that needs to be stopped immediately.
Even More Reasons!
We're still going here! Other banks have far better saving interest rates like ING Direct. Many also have other cool perks like being able to use any type of ATM for free, not just your specific banks ones. Some will even refund fees charged to you when you use overseas ATM's as well!
At the end of the day you may still decide to go with one of the big four. Perhaps you cannot meet the usually more strict financial requirements of the smaller lenders. Maybe you are able to negotiate a much cheaper interest rate than any other bank out there. Everyone's different and has different circumstances and loans.
Just make sure you know full well that going with a big bank is no longer the default option. We ditched them years ago and it's been fantastic in multiple ways for us including better savings rates, far better website and smartphone app quality plus the aforementioned universal ATM use.
So have you signed up with a non-big four bank? Let us know why and which one in the comments below!
For the newer readers... if you're interested in learning more about being mortgage free in under 10 years, automatically and without cutting back on the things you love... You'll probably like How To Pay Off Your Mortgage Early, Go From No Idea To Mortgage Free In Under 10 Years.
The benefits include: 1) How to pay off your mortgage faster than 99% of people with one hour a month of work 2) How to get rid of your debt and have the freedom to spend money on the things you love, guilt free 3) Clear outline of how to setup your expenses, mortgage and general finance 4) How offset accounts work and how to get the same result without being gouged by the big banks 5) How to cut through the crap and focus on the things that truly matter when taking down a mortgage 6) How to adjust the strategy so it works for you, even if you have kids, even if you only have one income 7) How to do all of these things and maintain a normal social life (and never be cheap).
76% OFF CORONA CONTENT SALE!!!